Today's CBC Challenge is to make anything but a card. I have seen these little packets around the blogsphere for awhile (usually with a KitKat bar inside), so I thought I'd try my hand at one.... Except to be different (you know how I love to be different!), I put something else inside:




I saw these near the check out at Michael's one day, and I had to buy some because they totally took me back to my childhood. I bought a pack for me, and a pack to give as a gift in this little pouchy. :) The pouch is super easy to make. Basically just measure your cardstock so it is big enough to wrap all the way around, with an inch or so overhang at the ends, then secure it with adhesive and crimp each end. It's hard to see the crimping in the photo, but it's there, I swear.

And again, don't the new Tart n' Tangy and old Fruity Phrases sets go so well together? It's one of my new favorite combinations.

The designer paper is from SU's Summer Picnic line. I've had a few comments from people saying that they'd wished they had bought that paper when it was available in the summer mini.... but don't forget it's also in the current catalog! It's not too late!

Don't forget to click the links in my sidebar to see what the other Challenge Chicks have created this week, and if you play along link your work on Courtney's blog for a chance to win a little prize. :)

Finally, I know, I know, this is the third day in a row that I've posted since I said I was cutting back. In my defense though, I made this a few weeks ago. It was included in that final package that was sent to my summer sister, Lorie. ;o)

Enjoy the day!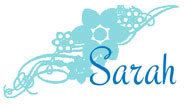 Details:
Stamps: Tart n' Tangy, Fruity Phrases (both Stampin' Up!)
Ink: Real Red
Paper: Real Red, Old Olive, Whisper White, Summer Picnic DP
Other: Real Red and Old Olive Stampin' Write Markers (on strawberry), Stickles, Real Red Grosgrain Ribbon, Chiclets, Paper Crimper