Here is another thank you card I've worked up to send out at Thanksgiving. This is the first time I've inked this Riley, and I have to say I love him! I just love fall, and cooler weather and everything about it. The smell of the fallen leaves, you name it, I love it. This card puts me in my happy place. :o)

I've used this layout before, but only recently saw the idea to put the little clippy on there to hold it closed. What a clever idea that is! I apologize, I don't remember what blog or card I saw the idea on. It was just one of those little things you file away to use later, you know? And the sentiment is handwritten again.

Here's the inside of the card:



I haven't done it yet, but I figure I will add a smallish rectangle of white paper layered on riding hood red on the far left side of the inner part of the card.

I think it turned out super cute, what do you think?

In other news, the season premiere of Pushing Daisies is on tonight. I love, love, LOVE that show! I can't wait! If you're really curious, I have links to all of my favorite shows near the bottom of my sidebar. I love me some tv. :o)

AND, I just saw a new blog post from my friend Mandy over at Limelight Papercrafts saying she's recruiting for a new design team! And get this... the six gals chosen will be called the Six Chicks. :o) Have you ever seen 13 Going On 30? I have... going on 30 times. It's one of my favorite movies EVER. Jennifer Garner had me at hello on Alias, and I haven't turned back yet. I need to get me one of those positions!! I want to be Tom-Tom, and wear purple acid wash denim. hee heeeeeee. I LOVE IT!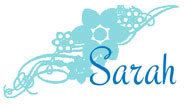 Details:
Stamps: Pumpkin Patch Riley (
Hanna Stamps
), Baroque Motifs (Stampin' Up!)
Ink: Adirondak Pitch Black, Chocolate Chip
Paper: Chocolate Chip, Always Artichoke, Riding Hood Red, Georgia Pacific White Cardstock, Basic Grey Deciduous DP
Other: Buttons (The Paper Studio), Copic Markers, Clippy Thing ;o), Tarnished Brad